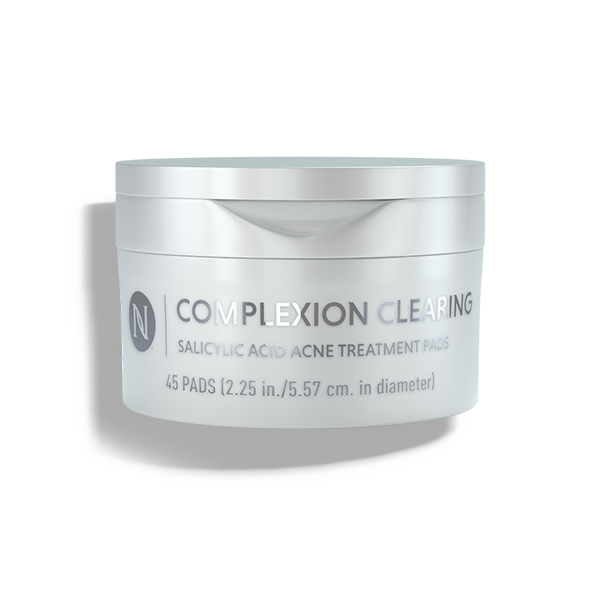 Complexion Treatment Pads
---
Finally, a breakthrough for breakouts! Neora's Acne Treatment Pads work in five key ways to tackle breakouts, blackheads, clogged pores and blemished skin in one easy-to-use product.

Monthly Smartshop Order:
$46
Save 22% ($59 value) plus

Free Shipping over $150
We know you're going to love it.
30-Day Money-Back Guarantee
You Deserve All the Rewards! Become a SmartShopper today.
More savings, more results—more rewards for looking, feeling and living better. Join our Preferred Customer Rewards Program by ordering through your SmartShop subscription and get all of these can't-miss perks:
Automatically save up to 25% on retail prices with every order
Exclusive access to the Hot List—limited-edition collection of top trends to try for $20 each
Free shipping on all orders of $150 or more
With every SmartShop Order you place, earn 10% NeoraCASH on your order subtotal, to use on your next month's SmartShop Order
Exclusive access to promotional offers for Preferred Customers only
Details

How To Use

Ingredients

Product Reviews
Details
---
Our powerful, daily-use product includes salicylic acid to combat acne blemishes by penetrating clogged pores, and Neora's proprietary SIG-1459™ ingredient, which helps to calm and soothe skin. Enhanced with multiple fruit acids, these pads also work to exfoliate and remove dead skin cells while niacinamide helps even skin tone, leaving skin looking smooth and youthful. Plus, this formula includes glycerin and aloe leaf juice to counteract dryness. For increased efficacy, these multi-functional can be used on your back, neck and chest as well as your face.
Complexion Clearing Salicylic Acid Acne Treatment Pads, featuring our patent-pending molecule SIG-1459:
---
Treat acne blemishes, blackheads and whiteheads
Exfoliate to prevent future breakouts and congestion
Penetrate clogged pores to reduce excess oil
Soothe and calm irritated skin
Evens skin tone and reduces redness
How To Use
---
Complexion Clearing Salicylic Acid Acne Treatment Pads
Cleanse the skin thoroughly before applying this product. Apply pre-soaked pad to entire face or cover the entire affected area with a thin layer one to three times daily. Because excessive drying of the skin may occur, start with one application daily, then gradually increase to two or three times daily if needed or as directed by a doctor. If bothersome dryness or peeling occurs, reduce application to once a day or every other day. Can also be used on your chest, neck and back.
Ingredients
---
SIG-1459™
A patent-pending, exclusive ingredient that works to soothe and calm skin.
Salicylic Acid (0.5%)
Helps clear up acne blemishes, blackheads and whiteheads and allows skin to heal while penetrating pores to eliminate and prevent new ones blemishes from forming.
Niacinamide
A well-known ingredient for more even-toned looking skin.
Witch Hazel Water
A natural astringent, it removes excess oil from the skin.
Fruit Acid Blend
A mix of alpha hydroxy acids (orange, sugar maple, lemon and sugar cane) that works to remove dead skin cells and exfoliate skin.
Aloe Barbadensis Leaf Juice
This nutrient-rich ingredient is highly emollient and a well-known source of moisture and hydration.
Full ingredient list:
Inactive Ingredient List: Aloe barbadensis leaf juice, bilberry (Vaccinium myrtillus) fruit extract, caprylyl glycol, citric acid, disodium EDTA, disodium tetramethylhexadecenylcysteine formylprolinate*, lauryl glucoside, lemon (Citrus limon) fruit extract, niacinamide, orange (Citrus aurantium dulcis) fruit extract, phenoxyethanol, PPG-5 ceteth-20, sodium hydroxide, sodium lauryl glucose carboxylate, sugar cane (Saccharum officinarum) extract, sugar maple (Acer saccharum) extract, water, witch hazel (Hamamelis virginiana) bark/leaf/twig extract.